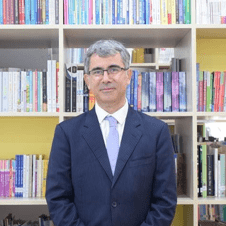 Hakan Demiralay
Campus Primary Head (Hoang Van Thu) – 4. Grade Leaders
I have over 18 years of teaching and leadership experience. After gaining my QTS (Qualified Teacher Status) from the University of Gloucestershire, I started teaching in London. I worked in the UK and a number of international schools in four different countries in various capacities such as Governor, Subject Leader and a Deputy Headteacher.

I have a Master's degree in Educational Leadership and Management from the University of Nottingham and gained my National Professional Qualification for Headship from University College London in 2020.

Before becoming a teacher and after gaining a degree in Filmmaking, I made TV commercials and documentaries. Prior to that, I was a qualified veterinary nurse for 9 years.

I'm passionate about education and developing individuals' capacity to become curious, responsible, knowledgeable people and respectful citizens who are sensitive to national and global challenges.